Image

Greener Healthier Lawns with Our Custom Lawn Program
Lawn Fertilization in New Jersey
Sometimes water and sunlight aren't enough to keep your lawn looking great, and that's okay! Lawn fertilization is a great way to replenish lost nutrients and ensure your grass is able to grow properly. For an easy way to get your grass back on track, trust Royal Turf for professional lawn fertilization services.
Signs Your Lawn Needs to be Fertilized
Proper fertilization is one of the most important parts of a healthy lawn! Without the right blend of nutrients, your grass will struggle to grow and photosynthesize. By the time you can see the damage, your lawn is in desperate need of fertilizer. If any of these signs sound familiar, give us a call today to schedule your first appointment.
Signs your lawn needs fertilizer include:
Discoloration: Grass should be green, no other color! If you see grass blades that are brown, yellow, or rust-colored, then there's something else going on.

No new growth: Most lawns grow half an inch per week, although some can grow even faster than that. Slow-growing turf can mean your lawn isn't being fed enough.

Lots of weeds: Having grass that is unhealthy and slow-growing creates opportunities for weeds to grow.
Weeds
BROADLEAF WEEDS
Broadleaf weeds like dandelions and clover can make even the most manicured lawn look unkempt. On top of these, you can have invasive weeds like ground ivy and violets, which can take over a lawn in a matter of months. Different weeds may require different treatment methods. Royal Turf has the expertise to identify any foreign invader that may be growing, and the know-how to address the issue appropriately.
CRABGRASS
You may not see them now, but beneath the soil lies millions of crabgrass seeds waiting to sprout into action come warmer temperatures. Timing is critical; Royal Turf applies the best pre-emergent available in early spring to keep the ugly invader from taking over. Don't fret if you have already been overrun by this unruly annual; we have the ability and expertise to rescue your lawn before it is too late.
A DELICATE BALANCE. KILL THE WEEDS, NOT THE LAWN.
For over 40 years Royal Turf has been turning the average lawn into the spectacular. With our proven techniques and years of experience, we can do the same for you. Our approach is simple yet extremely effective. We visit our properties every four to six weeks to address the needs of each individual lawn. Using the highest quality materials and superior expertise, we will diagnose each individual problem and treat it accordingly.
Royal Turfs Custom program includes 8 Applications done in six visits to the property. As we all know, TIMING IS EVERYTHING;
We start early in the spring with crabgrass preventers and broadleaf weed controls. 

With each application, we apply the proper doses of food in the best form for the plant to use. 

Spring, Summer and Fall each present a unique set of circumstances as well as new problems that may arise, so we time our lawn care treatments to be on your property to evaluate and address each issue as it arises. 

We not only address what you can see, like the grass and the weeds, we also remedy underlying problems such as soil structure, soil pH, organic deficiencies, and crabgrass seeds that are waiting to spring up.
Benefits of Our Fertilization Program
Picking the right fertilizer is no easy task! There are countless options, all with different blends of nitrogen, phosphorus, and potassium. Some might have add-ins like iron, lime, or sulfur. Instead of trying to teach yourself all things lawn care, trust the local experts at Royal Turf. We know how to identify nutrient deficiencies and how to fix them, ensuring your property gets exactly what it needs.
There are countless benefits to our fertilization program, such as:
Thicker, stronger grass than ever before.

Increased drought, disease, and weed resistance.

Better protection from pest activity.

More oxygen production.

Greener, more vibrant grass color.

Improved overall growth.
Our Fertilization Process
Your lawn's needs are much different in the summer than the winter, so we tailor our approach based on the time of year. We also look at your property's current conditions, the type of grass you have, and how you use your lawn before creating a custom treatment plan. Based on your unique needs, our fertilization process may include:
8 visits throughout the year to give your lawn what it needs, when it needs it.

Fertilizer with iron and other micronutrients to encourage a vibrant green color.

Slow-release fertilizer applications in the summer to promote growth and help your grass recover from the heat.

Winterizing treatments in the fall to keep your turf fed throughout the colder months.

Free re-treatments if you're not completely happy with the results.
Turf Disease Control
It may look like drought stress, but more water may only make it worse. Royal Turf can identify which type of fungal disease is growing on your turf and treat it with the proper material to make your lawn healthy again.
Prevention is the key to the best fungus control, and not everyone needs fungicides. Once Royal Turf identifies a fungus problem, we will work with you to provide the best solution to the problem, sometimes this may be treating with a regular regime of fungicides and sometimes in may mean changing your cultural practices, like mowing height, watering schedule or relieving soil compaction. Sometimes the problem lies in the wrong turf being planted in a particular area. Royal turf provides a holistic approach to try and manage turf diseases. Call us today if you think you see signs of disease activity.
Signs of Turf disease include:
Gray, pink or reddish threadlike material at the turf tips
Circular brown or yellow patches forming
Decaying turf that looks slimy or greasy
Irrigated lawns that appear to have drought stress
Trust Our Family-Operated Business
We know how valuable time with your family is, and there's no better place to make memories than the backyard! Our lawn fertilization services will ensure you have a beautiful green space to enjoy with your friends, kids, and pets. If you ever have any problems after one of our visits, give us a call and we'll work hard to make things right. That includes re-treating for free!
Image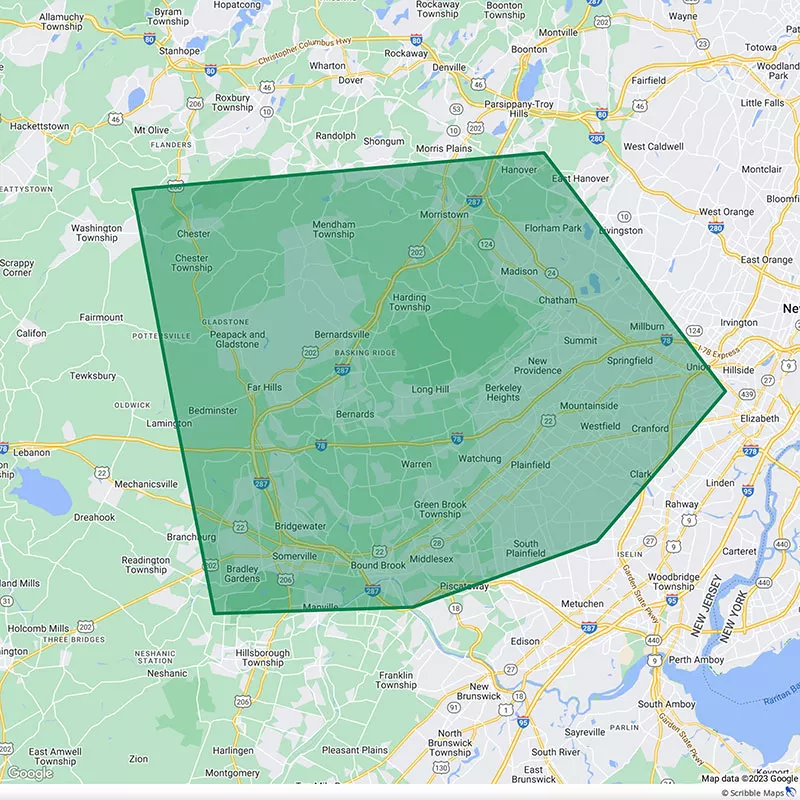 Areas We Service in New Jersey
We've worked hard to expand our service area while ensuring all of our customers get the same great service and response times that we're known for! We're proud of offer lawn care across New Jersey, including: